Austin's First Portland Loos
For some time, there has been a noticeable need for safe, and easily accessible public restrooms in downtown Austin. To accommodate this need, the City of Austin, Jamail & Smith Construction, and the Portland Loo company worked closely together to install Austin's first two Portland Loos.
Along with providing a solution to the limited public restroom access in downtown, these solar-powered, easy-to-clean loos also address public health and safety concerns by preventing unsanitary conditions. The Portland Loo was specifically designed by Portland police, fire and maintenance staff to ensure easy maintenance, and security. They are stainless steel with graffiti-proof wall panels and open grating with the intent to prevent crime, vandalism, and deterioration, while providing the public with a much needed downtown amenity.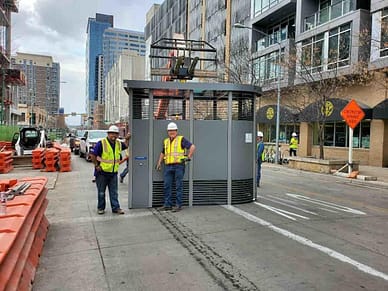 During excavation to connect the wastewater and freshwater lines, Jamail & Smith had to navigate through unmarked and unclaimed utilities, and duct banks that changed the original course of digging. Due to the locations of the loos, traffic control was needed, as essential streets were unable to close down. Throughout the project, Jamail & Smith provided options and recommended solutions to overcome these challenges.
As an extension of the City of Austin's team, Jamail & Smith helped to improve the quality of life downtown, while providing a sanitary and environmentally sustainable solution. Jamail & Smith delivered a quality construction solution by working through Christmas and New Year's holidays to finish the project on-time and within budget.