The Rehabilitation of Zilker Café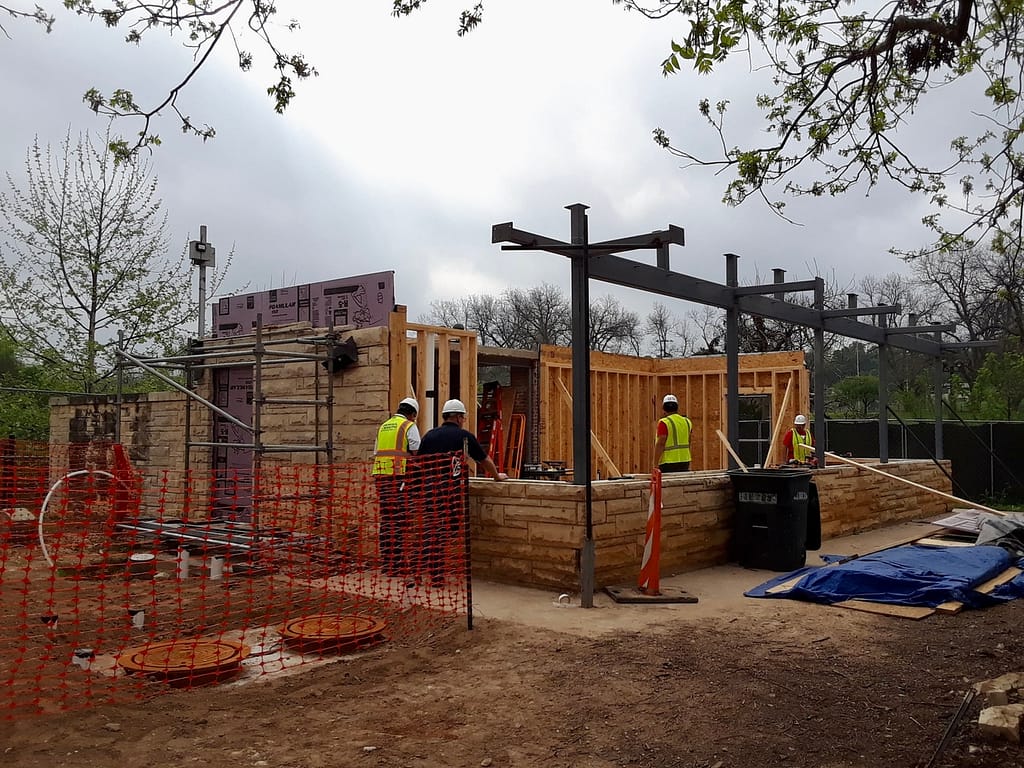 In order to re-open the building, extensive renovations to bring the facility up to code needed to take place. The rehabilitation of the building also needed to reflect the original look and feel of the building, and certain components of the building had to be preserved. The building also needed to meet or exceed the Secretary of Interior's Standards and receive approval from the Historical Landmark Commission. 
The City of Austin Parks and Recreation Department (PARD) contracted with Jamail & Smith Construction and CasaBella Architects to undertake the construction effort and design of the project. Jamail & Smith deconstructed the building from the inside out, removing the roof, ceiling, walls, glazing, framing, and kitchen equipment, reducing the facility to the slab and historic Lueders stone walls. The Lueders stone walls were temporarily shored until the finished framing could be installed. Plumbing was installed below the slab. To secure the historic masonry, while allowing for a future mechanical system that would be installed on the roof, new steel and wood framing was installed from the inside out.
The original design of Zilker Café had a low-profile, flat, cantilevered roof, that was very difficult to replicate and meet current mechanical and health code requirements. To overcome this challenge, a layered roof system was designed and constructed which included a steel supported cantilever, parapet and rooftop equipment screen.
It was decided that a sleek and modern high visibility storefront system would be installed with automatic serving windows to maximize natural light. To save energy, LED lighting was installed both inside and outside of the building, replacing the current incandescent and fluorescent lighting.
In our next newsroom post, we will discuss more unique challenges our team faced during this project, and how we worked to find a solution. And in case you missed it, to read more about the history of Zilker Café, be sure to view our most recent post.